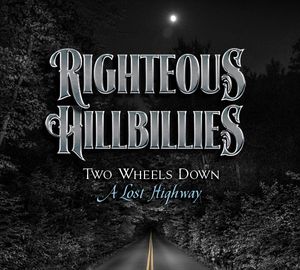 Indie Music Review
by Lance Wright 

The fourth album from Midwestern based blues rockers The Righteous Hillbillies, Two Wheels Down a Lost a Highway, is another entry in a growing discography that has earned this five piece a reputation as one of the nation's best purveyors of traditional music. 
The ten song collection highlights the considerable talents of vocalist Brent James, but that's not the sole reason to draw people in and The Righteous Hillbillies are a cut above thanks to across the board instrumental excellence and impressively solid songwriting. It's impressive, at this late date in popular music history, to still encounter musicians and songwriters working within the relatively limited blues rock tradition and able to wring fresh variations from its long standing formulas. 
This is accomplished, in part, thanks to James' vocals, but the other half of the equation is the commitment the players manifest and, to a lesser extent, the superb production job from Brent James that makes this music seem monumentally immediate. 
Rollin has some particularly stunning electric slide from the band's lead guitarist Nick Normando and some killer accompaniment from Hammond organ. Lead singer James is a remarkable vocalist in some ways – the frequently drawn parallels with former Black Crowes vocalist Chris Robinson are mildly instructive, but overall, such comparisons serve no ultimate purpose. He has a remarkable artfulness with the material that most singers in this idiom do not possess, but the most distinguishing quality about his vocals is the studied, yet utterly natural, soulfulness he invests the lyrics with. 
There's a great swing propelling Throwing Stones will catch your attention from the start and has Chris Bartley's organ punching away just underneath the guitars. The use of the organ provides necessary ballast against the twin guitars of Normando and James. 
A feeling of constant winding up fires the verses of Shake This Feeling and resolves itself when the chorus hits. The bluesy piano runs streaking through the mix keep this track light-footed rather than sinking into some more blues rock guitar heroics.
There's an increased sense of ambition on the title track, an expansiveness of treatment, we don't hear in a lot of the songs. It is still firmly grounded in the band's traditional loves, but there's clearly more of an effort here to own the genre's tropes as their own rather than merely attempting to approximate them. 
Nick Normando stands out once again as a true musical force in this band thanks to his tasteful and often quite rousing playing. The vocal on Call Me a Doctor sounds like a cross between Captain Beefheart's tortured yowl and Howlin' Wolf's deep Memphis growl. The band and arrangement respond in kind with a patient, piano and slide guitar driven focus that gives the track real edge. 
Shackles & Chains continues the band's habit for making great use of stock genre imagery and imbuing it with something of their personality. Its mid-tempo march evolves slowly, but inexorably, from a seemingly tentative beginning and ends quite nicely. 
Two Wheels Down a Lost Highway continues the band's impressive streak of top shelf blues rock albums.

Indie Music Review

#righteoushillbillies # indiemusicreview #twowheelsdown