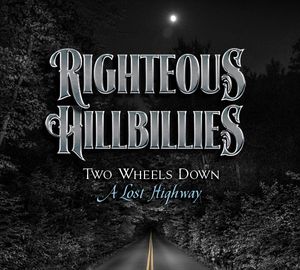 Review by Kaj Roth
Palace of Rock Sweden

It doesn´t have to be so complex, I´m talking about rock and roll, you know when it´s down to basics with 5 guys doing what they do best like the Illinois based Righteous Hillbillies. 

They are having lots of fun and have written some good music along the way, so what kind of rock and roll are we talking about here? Well, these guys play a lovely blend of southern rock, boogie and blues. Timeless rock that could hail from 1974, 1990 or in present time. 

This kind of music will never sound dated and their frontman Brent James sings with so much feeling that I totally surrender to the songs on their 4th album "Two wheels down a lost highway". 

They invited guest musicians from Gov´t Mule and Steppenwolf on their previous record "The muscle shoals sessions" (2015) but this band doesn´t need any outside help, they show us that they can do it just as good on their own. 

Just listen to groovy songs like "Shackles and chains" or "Rollin´" and you´ll be a fan too, the song "Call me a doctor" bring thoughts to Joe Cocker while the rest of the album will appeal to fans of Allman Brothers, Lynyrd Skynyrd and Ile Kallio Big Rock Band. 
It´s only rock and roll but I like it.