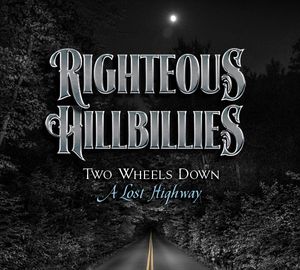 Brent James (vocals/guitar), Barret Harvey (drums), Jeff Bella (bass), Nick Normando (guitar/vocals) and Chris Bartley (keys/vocals) are the Righteous Hillbillies. They recently released Two Wheels Down A Lost Highway and if you take a look at the band they look like a bunch of badasses. They might all be sweethearts but they don't look like a bunch of guys you would mess with.  
Their music is a mix of southern charm, rock and a good amount of attitude. It's nothing I haven't heard before but the band has some serious chops in a number of musical areas. The songs are well written and delivered and above all else feel quite memorable.   
They open with a track called "Rollin'." The band doesn't waste any time as the song starts with the full band and short guitar solo. Once the verse hits you are treated to a saloon style piano, well-placed guitar fills and well-sung vocals. The song fits so much in within its runtime. Suffice it to say if you enjoyed the first song you will enjoy the remaining ones.   
"Throwing Stones" is down and dirty rock with attitude that is perfect for a Friday night at the bar. The organ sounded great to my ears. It reminded me of a distant cousin to the song Radar Love.  
"Shake The Feeling" was one of my favorite songs on the album. The song does mention whiskey and smoking but also is quite heartfelt. I especially enjoyed the piano on this track. "Down To Memphis" is one of the most southern sounding tracks while "Drama Zone" has vocals with a slight gospel vibe along with a killer bass line. They close with a solid number entitled "Shackles & Chains."  
​The thing I liked about this band is they know exactly what type of music they want to play. This is an old school rock vibe that I think a lot of people will still find appealing. 
#TwoWheelsDown #RighteousHillbillies #Divideandconquer

http://www.divideandconquermusic.com/indie-music-album-reviews/righteous-hillbillies-two-wheels-down-a-lost-highway