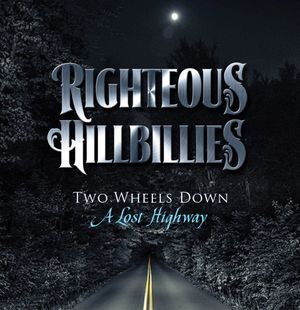 In fairness we must say that we are at the first sight of the five members of the American band "Righteous Hillbillies" in Joliet, Illinois were immediately convinced that this was about a classic country band, especially by the present cowboy hats and bandanas which lead singer Brent James, bassist Jeff Bella, drummer Barret Harvey, lead guitarist Nick Normando and pianist-organist Chris Bartley on the head wear.  
But listening to their album "Two Wheels Down A Lost Highway" sends us in a different musical direction, namely the pure rock 'n' roll with a few songs hints blues and soul as an extra spice was added. The energy drips from the nine original compositions and carefully selected cover of Utah Phillips song "Rock, Salt & Nails", a song which also was recorded by many other artists, including Joan Baez, Steve Young, Waylon Jennings and Buddy & Julie Miller.  
The dynamic performances of "Righteous Hillbillies' are reputed in Illinois and around and lead singer and main songwriter Brent James is taking a charismatic figure who get problems on the basis of public awareness. Now, that might also be made easier by the songs, the band live and this new CD. It is a shame that we have not found a video with a song from this album to convince you of that energy of the band.  
Songs like "Rolling", "Throwing Stones", "All Down But Nine" rousing organ sounds Chris Bartley ensure that can not remain indifferent and silent audience as the band playing these songs live. Also, thereby can provide a lot voetengeschuifel the album title track "Two Wheels Down A Lost Highway," "Shake This Feeling", "Drama Zone" and "Shackles & Chains". Furthermore, the bluesy "Down To Memphis" and "Call Me A Doctor" clearly included under the influence of the sound that the legendary BB King has produced for decades.  
With us call this band good memories of groups as "Lynyrd Skynyrd" and "Bob Seger Band. 'Righteous Hillbillies' their self-titled debut album launched in 2008 and 2012 followed the album "Trece Diablos". In 2015 appeared the recorded album "The Muscle Shoals Sessions" in the famous "Fame' studio in Alabama. With the new album "Two Wheels Down A Lost Highway" shows the band to the outside world know that they are still not without inspiration cases and that they still have a lot of beautiful songs in the pipeline in place for future work. 
#TwoWheelsDown #RighteousHillbillies #rootstime #belgium 
-------------------------------------------